Helmets are a vastly misunderstood piece of gear. Most people don't understand what different types of ballistic helmets even do and the fact that a bullet wound in the head is not something you will often encounter in the field.
Helmets are there to shield your cranium against flying debris, shrapnel, blunt attacks, projectiles, as well as you falling somewhere. And while the latter sound silly, difficult terrain is often a soldier's biggest enemy.
There are three ways to categorize ballistic helmets:
By Level of Protection under NIJ 0101.06 designation level:
By Cut Type
As Non-Ballistic Bump Helmets
Often it is better to keep the head protection light and open, especially if most commands will be vocal. But, if you are in any danger from an IED you will always want something protecting your ears and your neck. Finally, while increasing your protection is always a good thing, you will need to balance that level with their weight.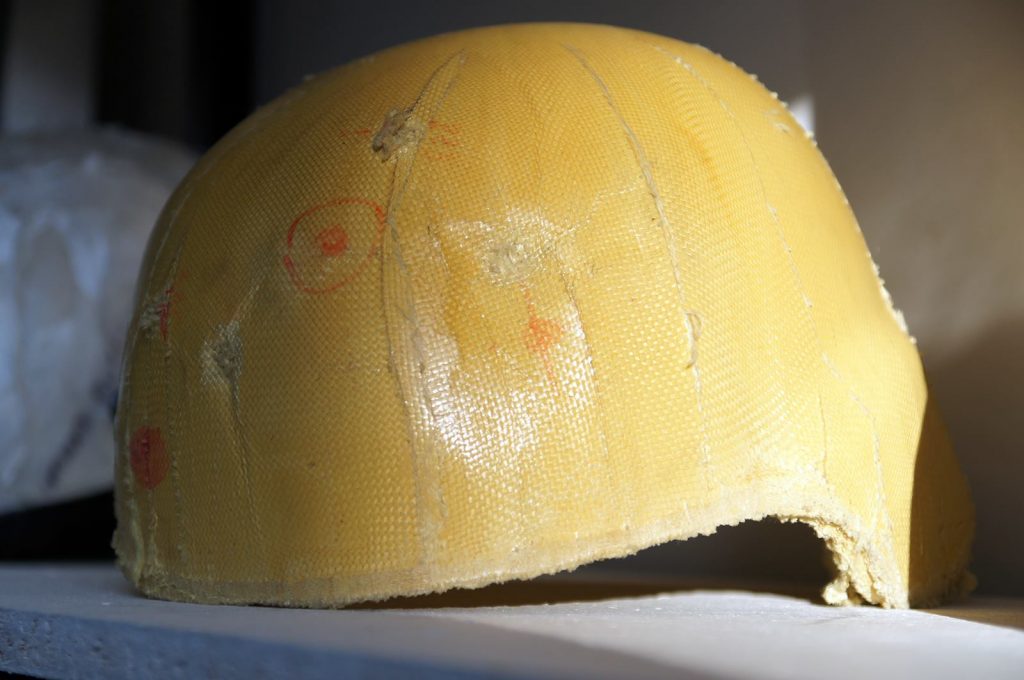 Helmet Levels of Protection
Ballistic helmets and bulletproof vests may serve a similar purpose, but they are not built the same way. Unlike vests, they need to reflect the entire trauma away from the wearer, but still stay light enough for your neck.
While vests are sanctioned under the National Institute of Justine 0101.06, helmets go under 0106.01 and are even tested differently. While this means that there are no helmets with Level III and IV protection, all helmets are both slash and stab-proof.
Under NIJ standard, the helmet should have an interfering effect and dissipate as much of the force as possible. It should deflect all of the force upward, protecting the brain and neck from blunt force trauma as well.
On the low end, there is NIJ Level I protection, which will bounce off small caliber bullets like the .22, but also a 38 Special, which is a fairly common round in most US States. As the difference between Levels I, IIa, and a full Level II are fairly small, most people opt for the latter.
NIJ Level II
This is, by far, the most common type of protection for helmets. It is relatively light and can be comfortable for the wearer if padded and sized correctly.
Until the NIJ added the higher designation of IIIa this used to be the highest grade of protection and as years progressed it became even lighter with new materials. For many domestic situations, it is an adequate level of protection.
It can withstand good amounts of blunt damage, reflecting most of the force back to the projectile and dissipating the rest equally.
NIJ Level IIIa
Currently, this is the highest form of protection offered by helmets. With added neck support there are models that will withstand even frag grenades going off in the vicinity. If your ears are protected, shrapnel from a frag should lodge itself in and leave you unscathed.
As far as bullets go, it can sustain a fair shot from a .44 Magnum without any injury to the wearer. While this happens only to the unluckiest of us, it may be a risk in close-quarters combat with violent perpetrators.
But, the best advantage of this helmet is its protection against explosives. Layers inside will not only protect your brain from any flying debris that will always come your way, but also from the blast itself.
Namely, under that amount of pressure, the air itself acts as a blunt object. That gust can be so strong that it shatters bones and bruises internal organs. In many ways, that is worse than a shrapnel shard.
Handgun Protection vs. Shrapnel Protection
While the physics behind the issue becomes irrelevant if any type of metal is quickly penetrating our head, it does come in handy when picking out a ballistic helmet. So, thinking in advance will help a lot.
Bullets and shrapnel, as well as other types of debris that can fly off after an explosion, will fly, impact, and penetrate differently. While shrapnel pieces are slower than bullets, they can be much larger, and often irregularly shaped so to penetrate as much as possible.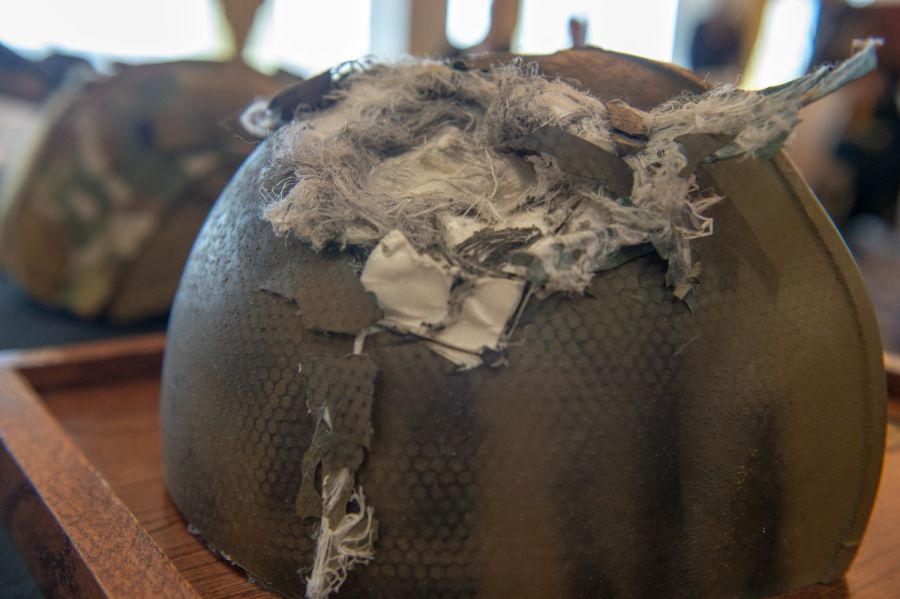 Otherwise, as is the case with the Mescar M72, there can be hundreds of little pieces weighing just above a gram that will pepper anyone in their path.
Opposite to projectiles shot from a rifled barrel, frag shards are meant to have weird shapes that you can't really predict where they will fly. In standard issue grenades, these will be those little squares we see on the outside.
But, when it comes to an IED the contents inside can be even more deadly. Spikes and nails can be propelled at more than 150 feet per second. A good ballistic helmet will not only protect from that penetration but cushion the blow to prevent you from getting stunned.
Debris and Blunt Damage
A step below explosive shrapnel, there is also the garbage that can start flying. This includes any type of building cave-ins or stuff thrown at you from high up.
In uncertain combat situations, this comes really handy, because you never know when something will fall on your head. SWAT teams and security contractors enter dens with all kinds of dangerous objects on a weekly basis.
V50 Fragment Protection
V50 is the gold standard when it comes to fragment protection in ballistic helmets. They test with the smallest fragments that fly up to 2200 feet per second. While every piece individually doesn't carry a lot of force due to the small weight of 1.1 grams, there can be dozens of these pieces hitting the helmet at the same time.
While the helmet can be damaged after the explosion, to get a V50 value the wearer underneath needs to be protected completely.
There are three widely used tests to secure a V50 designation:
NATO Standard - STANAG 2920
United States Standard - Mill STD 662 E
United Kingdom Standard - UK / SC / 5449
Types of Ballistic Helmets by Cut
While there are some alternative designs when it comes to ballistic helmets, but they usually just harken back to some obsolete models. Currently, modern helmets can be separated by design into High, Mid, and Low cut. Each of these has its own benefits and drawbacks.
In each instance, the goal is to balance the protective capacity and durability of the helmet with the size, weight, and utility of your gear. Each type has its own place and works best in different situations. A choice will need to be made in regard to the needs of your mission, your team, and your personal capacity.
High Cut
High cut helmets are made to be light, durable, and to leave enough space for additional equipment, usually for communication. They can most often be found in SWAT teams and for recon squads in different militaries.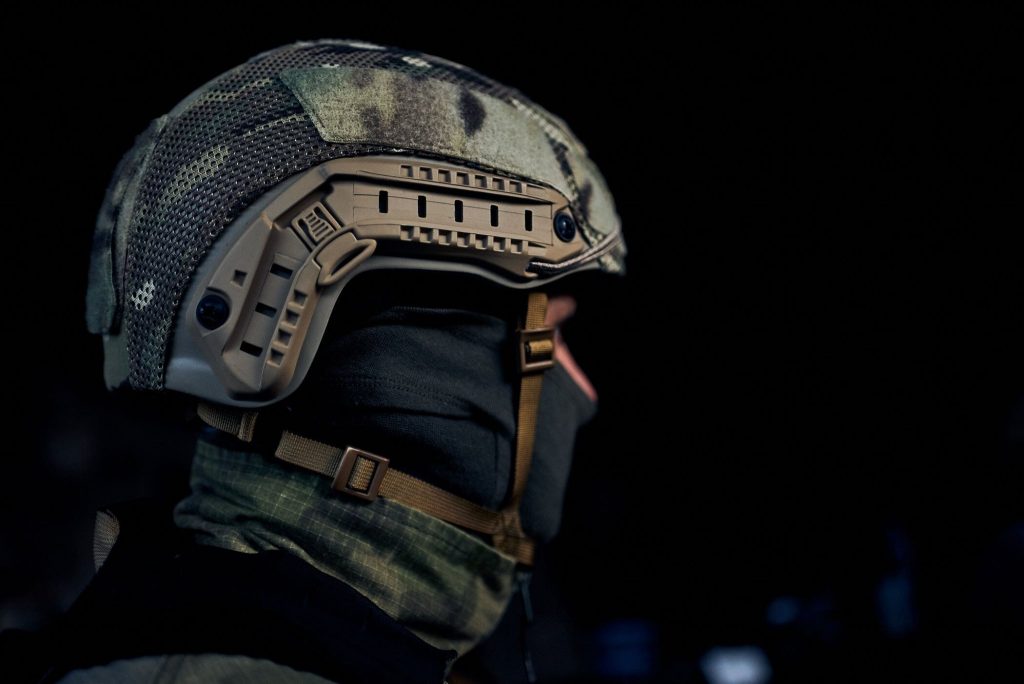 Uses for High Cut Helmets
The main advantage of this design is its weight, as well as the fact that it doesn't prevent external communicators to be worn without adjustments. This means that most squads that operate in vast open areas will prefer to lose a bit of their gear weight than endure protection that they might not need.
Also, SWAT teams and all comparable jobs don't usually need the protection offered by low cut helmets. This gives more leeway to use other gear that will be more useful in the field.
Mid Cut
As a solution that is neither here nor there, mid-cut helmets have fallen out of favor. This is especially the case now when your headgear is not just a solid cup of metal in the outer shell but can be assisted with attachments.
As for the design, you will most often see mid-cut helmets on some baseball helmets, with and additional ear guard on the side. For professional applications and ballistic helmets, some terrestrial mobile units prefer the design as it can muffle air noise when going quickly.
But, as far as solutions go, there are better ones.
Uses for Mid Cut Helmets
While heavier than high cut helmets, the middle solution is not that heavy on their own. If they are a part of standardized gear with custom comms and optics they can become a viable solution.
But, in the shape that they come in when you buy them from a military surplus store or online unless you plan to LARP World War II there are not that many uses where you can't find a better deal.
Low Cut
Most armies in the world, as well as most security contractors, prefer to use these helmets and have the largest possible area of protection than to wing it with smaller helmets. This design forces the wearer to use internal communicators and carry quite a bit of weight on their neck.
During prolonged missions, this weight will become uncomfortable. So, it is much better to plan engagements in quick successions and strike immediately than leave soldiers to march with this type of gear on them.
But, they are also very sturdy and there is no better way to protect your head than to have one of these.
Uses for Low Cut Helmets
Generally, every type of military engagement will go easier with such a helmet on your head. If you are in any danger from high-powered explosives, or dirty IEDs, or even someone throwing sharp trash at your head.
Officers going on drug raids or busting members of organized crime will want to have Level IIIa protection, even if it makes them look 'militarized'. They are also popular with OSCE and UN observers and reporters when in dangerous areas.
Ballistic Helmets vs. Bump Helmets
For training purposes, as well as a few others, there might be cases where you want to keep your head protected and keep the routine of wearing a helmet, without straining your neck. When training, it is often better to wear these helmets for protection, because the decreased weight increases the possible time spent training.
This is where non-ballistic helmets come in handy. While they will, by no chance, stop a bullet or frag, they are light and durable and will save your head from a fall or some rocks falling on your head.
These helmets are quite popular in sports and many people love wearing them when doing extreme sports.
Conclusion
Helmets are one of the core protective gear pieces for any dangerous task. But, when it comes to picking between different types of ballistic helmets we need to be aware of what they are meant to do, as well as what we plan to use them for.
While they will protect against bullets, their main job is to protect against flying debris and shrapnel. And this is where helmets shine.
Finally, once you know what you can choose from and what are these types best for, it will be easy to select a high-quality helmet that will protect you in any sort of dangerous situation that can find yourself.