When talking about levels of ballistic armor, we usually refer to the National Institute of Justice and their NIJ ballistic standard. In this context, we can know how armor is tested and what types of ammo does NIJ Level 2 body armor stop.
Additionally, the armor might be referred to as NIJ Level II using Roman numerals, as these styles are used interchangeably.
There are four main levels for the NIJ standard:
IIa – Soft/ anti-9mm armor.
II – Against automatic pistols.
IIIa – Against high-caliber handguns.
III – Hard/ Against anti-personal rifles.
IV – Against anti-material rifles.
Also, there are slight modifications that can be given to any level to improve their effectiveness. Most often, you may see armor cited as Level 3+, which refers to protection against larger calibers of anti-personnel rifles, often used in Asia and Eastern Europe.
Finally, while the first three categories are all soft ballistic panels and are relatively very light and flexible, there are differences. Generally, it will be much easier to wear Level II armor under your clothes than Level IIIa.
When to Use Level 2 Body Armor?
Vests, panels, and carriers certified to be NIJ Level 2 are probably the most common type of armor in the world. Because of the lightness and overall ease of use, they are the go-to option for most police forces and security-minded civilians.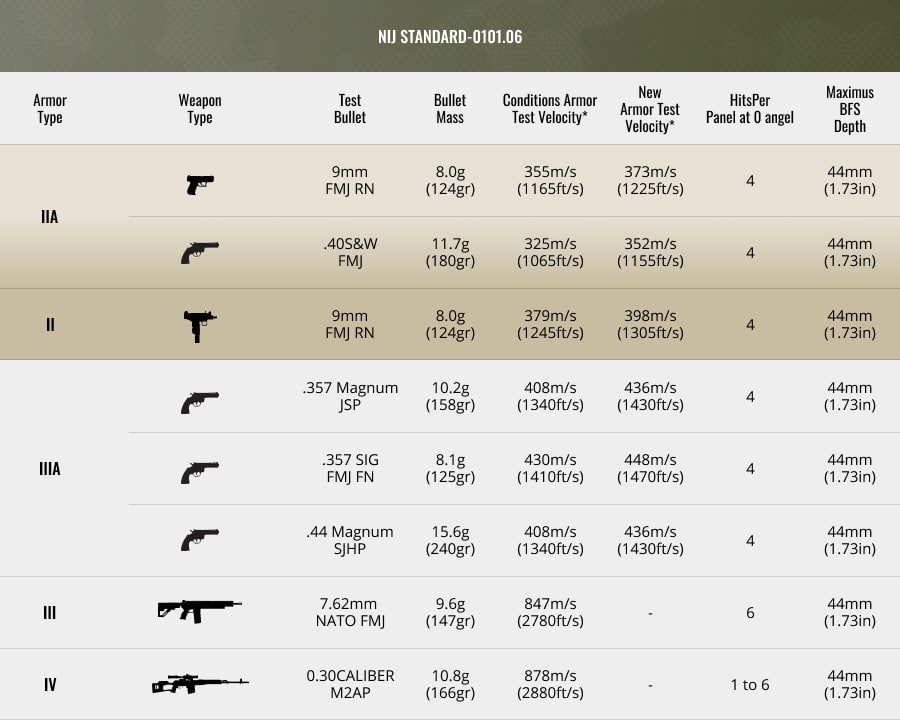 The thickness of Level 2 armor is only 6mm (~2/5th inch) and the material is fairly flexible. This allows the wearer to keep it on for the whole day without any issue. And, they are not visible under a shirt or jacket because they flow in the same way as that fabric.
Further, while it doesn't sound like NIJ Level II armor is very strong, we need to realize that more than 90% of armed attacks are made with 9mm pistols. This armor will protect against multiple hits from a 9mm round, even if fired from an automatic weapon.
In the end, the tradeoff is worth it because you get more than enough protection while wearing something you will probably forget you have on at some point.
Level 2 vs. Level 2a
Naming is not the only issue for the differentiation of these two standards of armor. For novices, it is hard to remember that IIa is less than II, as the logic is not clear.
Also, while NIJ Level 2 is roughly 20% thicker and denser than 2a, this difference can't be clearly felt by the wearer. Inside a vest, they seem virtually identical, which is probably the reason why most people chose the thicker.
Level IIa will still stop a 9mm bullet, but not as many repeated rounds and with slightly more damage to the wearer. By putting all that into the equation, going thicker in this situation has minuscule drawbacks with significant benefits.