If you want to know exactly how heavy military body armor is, imagine gaining 30lbs and needing to run, jump, and climb. Then there is the backpack and everything you need to carry in it. While not as hard at first, after a while the weight gets to you, ankles start aching, feet start swelling, and you just stop having such a swell good time.
There are three sets of armor that a soldier might wear when deployed:
Plate Carrier

Front hard plate
Back hard plate

Headgear

Usually a low cut ballistic helmet

Auxiliary Armor

Stomach
Groin
Thighs
Neck
Shoulders
Arms
Femoral, Carotid, and Brachial Arteries
Additionally, there are your gloves and your eyewear that will also be resistant to impact and debris to a point. Technically, military goggles will stop a .22cal bullet, but no army will be shooting at you with that. That rating is to protect you from shrapnel and all kinds of flying particles.
What Is Military Body Armor Exactly?
While it may seem from the outside that each soldier always wears the same armor, that is mostly for promotional and cinematographic purposes. Any gear will always adapt to the needs of the mission and the demands of the terrain.
Every setup will include a plate carrier and a helmet. And, when using NIJ Level III armor this combination will already get you to about 15 pounds.
But, if you plan on engaging any type of urban warfare where an enemy might jump from the unknown at any second and spray you with IEDs and bullets, you will need more. With your plate upgraded to Level IV with a ballistic IIIb cummerbund and your neck, shoulders, groin, stomach, and thighs protected, you can be looking at 40lbs of weight on your feet easy.
More than Just Us Jarheads
For some lucky divisions, like recon, where mobility and agility are crucial, less armor and baggage will be carried. As they generally don't come into danger from explosives as much, they won't be carrying auxiliary armor.
Also, most units that plan to do all of their work from a chopper or Humvee don't cover everything. They would still wear their plate carrier and a helmet, but won't bother with much more.
Finally, there are those who protect our liberty and way of life back home. The US Army Reserve and the Army and Air National Guard form a vital part of the mechanism that enables everyone to do their job properly. They will usually be wearing soft armor when operating domestically and only carry plates if duty takes them abroad.
Also, troops usually don't use ballistic helmets when training, but rather bump helmets. All of these reductions lower the soldier's armor to about 5-6lbs, which is negligible.
Protecting from Explosives
In more ways than one, explosives are much more dangerous than bullets. Aside from artillery fire and aerial assaults, someone throwing an IED as much as they can create a lot of problems. This is especially true in enclosed environments and urban settings.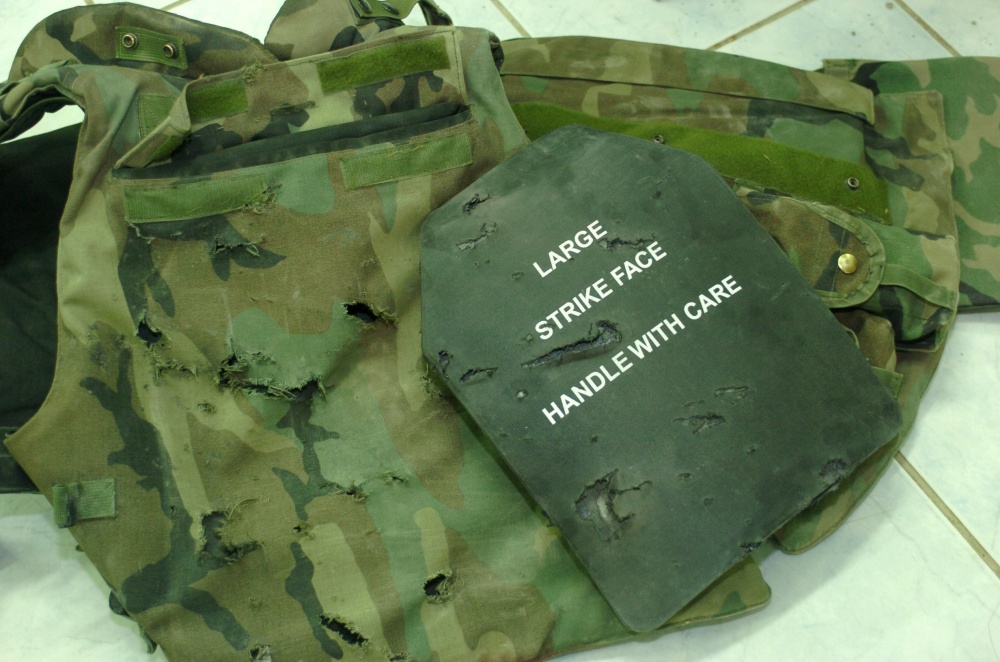 Helmets, eyewear, and neck protection are often the piece of armor that will save your life from those attacks. Lobbed shrapnel and plunged debris can travel very far and injure even those who were well beyond the blast radius.
Here, even a small injury to your head, eyes, or neck can mean that you will be incapacitated and in need of a medic.
Conclusion
The weight of a soldier's armor will vary depending on his or her job. When training or supporting domestic efforts it can be very low. But, when deployed into dangerous regions where they will be under fire from rifles and explosives, they will layer ballistic plates and fabric wherever possible.
The plate carrier alone will weigh 7lbs at least and can go up to 30. When you include the helmet, arms, mags, and all the additional gear, these can add up really quickly.
That is why every commander takes extreme caution about what their soldiers will carry and where trying to find the optimal balance between protection and combat ability.