When asked so broadly what is body armor used for there is no other answer than defense. But, as we start to narrow down the question we can get more information about what we can defend from and how.
Ballistic body armor is made to protect from bullets, and there are big differences when it comes to types of ballistic armor, their hardness, weight, and levels of protection. Each piece will protect a different part of your body and may allow for some additional functionality.
There are three main things that good ballistic armors should do:
Protect from bullets and ricochet
Protect from explosions and shrapnel
Add to your gear utility
Finally, you will sometimes want to project power with your armor and gear, which is an important part of your defense. Letting everyone know that you are prepared will dissuade most from even attacking. But that one only works if you really are protected, otherwise it is just dangerous.
Ballistic Protection
Calling ballistic body armor a bulletproof vest might sound cool, but that name really depends on which bullet and which vest. And even vests that are rated for a certain type of ammo can't take in a lot of rounds before tearing or breaking.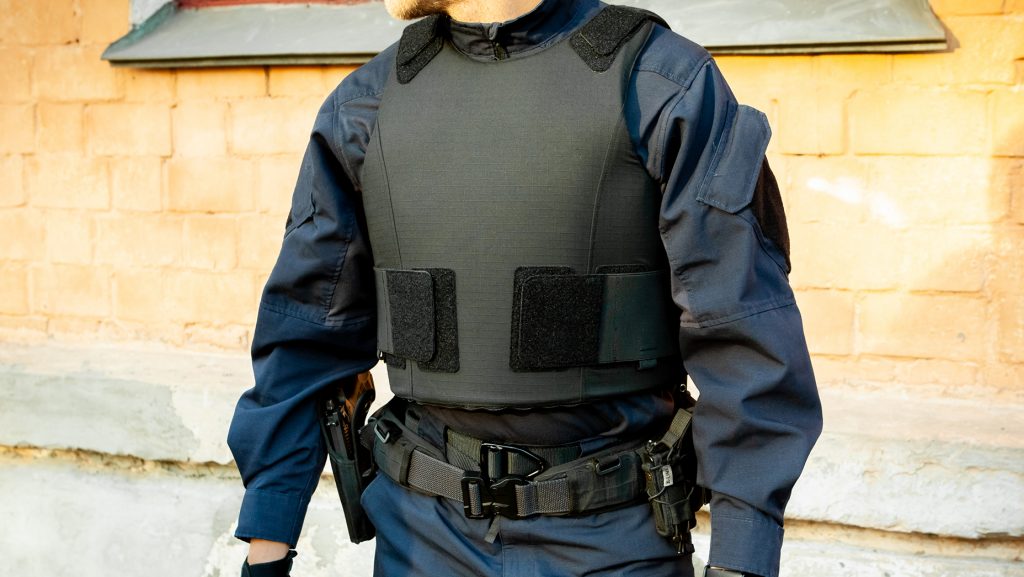 The good thing is that nobody is ever looking for perfect defense, but rather an optimal one. Usually, you want to be protected from the most common attacks, which are handgun rounds. The biggest killer in the world isn't some .950cal super-round, or even the 7.62 rifle ammo, but rather the good ol' 9mm. And you only need a soft NIJ Level IIa to stop it.
But, if you know you will be going into action with the enemy being armed with some serious firepower, carrying a plate becomes reasonable. Because, you don't need to wear it for long, but only until the bag guy with the rifle isn't an issue anymore.
Soft Armor
Soft armor is made from folded sheets of fabric, usually aramid, that are tough and have high tensile strength. This fabric will then catch the bullet and dissipate the force so that it doesn't penetrate into your body, or causes extensive damage.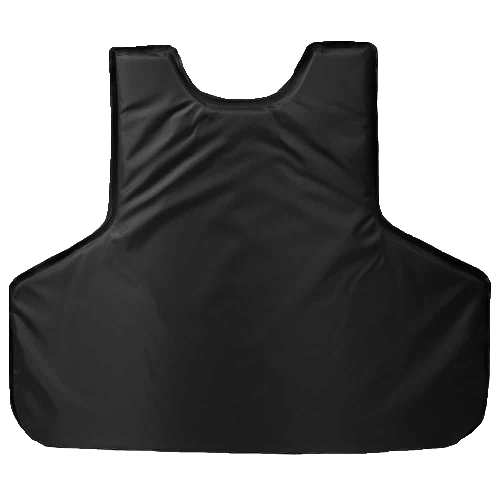 Depending on the design of armor and which round was used to attack you, you may get some bruising or a cracked rib, but you will survive. Most injuries occur when wearing covert armor and fewer when it is an external carrier.
Soft armor is rated up the NIJ Level IIIa, meaning that it offers protection from virtually all handguns.
Hard Plates
Hard plates are often referred to as 'military armor' because they are meant to defend from rifle fire. Unlike soft armor that can be wrapped around your body and cover a wide area, plates are only meant to protect vital organs on your torso.
Only a hard plate can stop a round from a rifle, and only an NIJ Level IV can stop something like .30 Armor Piercing rounds.
Auxiliary Armor
Regretfully, vital organs are not only in your chest.
While it is generally rare to be hit outside your center of mass with a rifle, debris and shrapnel often find their way everywhere. That is why most troops will ware additional armor on their neck, shoulders, groin, and stomach.
These pieces will be made from soft armor, as to not restrict your movement and add unnecessary weight to your gear.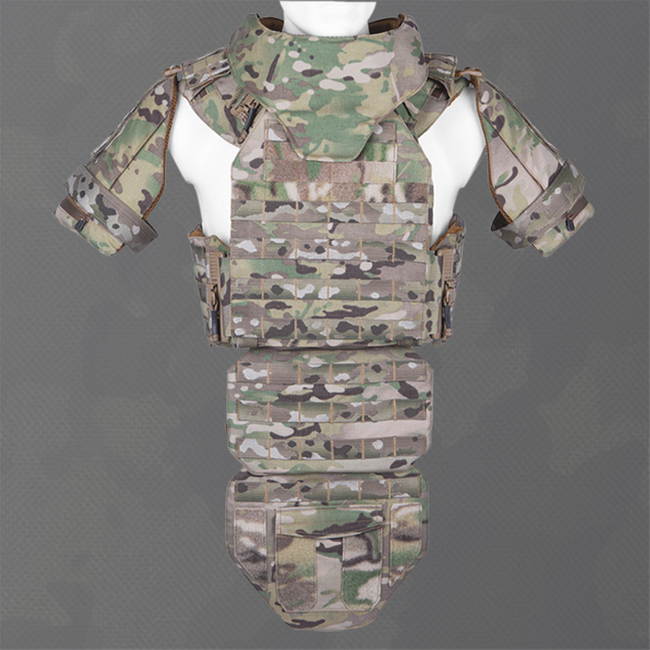 Protection from Explosives
It is probable that more people get injured in war from explosives than from bullets. Rifles need aiming, and if you have a line of sight on the enemy they also have one on you. But explosives can just be launched from cover and devastate a company.
In these cases, your torso will be mostly protected. And, if you are wearing additional armor the rest of your vitals, these will be protected as well. But, the two most important pieces when it comes to protection from explosives are your helmet and goggles.
Helmets and Goggles
While ballistic helmets can stop a round from a sidearm, they won't save you from a direct headshot from a rifle. Thankfully, these shots are rare.
What helmets will save you from are flying shrapnel and debris. These will be everywhere in an urban combat setting. And, even a small hit to the head can take you out in an instant.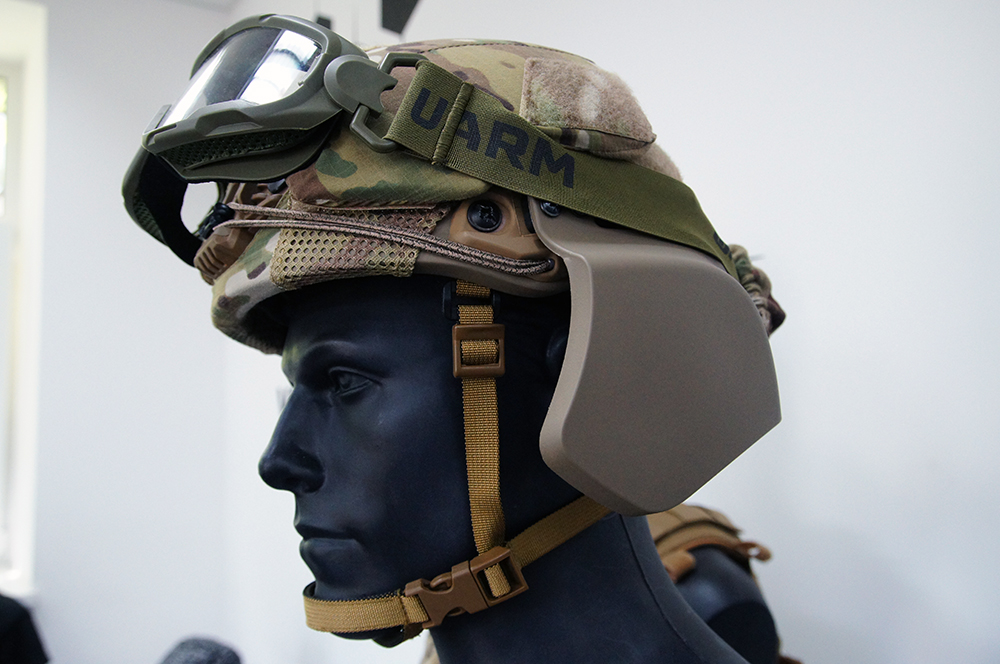 As for the goggles, even though they can only stop a .22cal round, they will stop a pebble hurling at your eyes. Flying particulates are not dangerous when it comes to the rest of your body, but your eyes are really sensitive.
Adding to Your Arsenal
Good body armor should be used for more than just stopping bullets. A holistic approach to the mission means that you will need to consider your weapons, gear, first aid kits, as well as MREs and water.
External body armor should be versatile enough to allow you to attach some gear that you might need quickly, and to work together with your belt and holster to allow for maximum movement with minimal strain.
Covert armor, on the other side, should let you move as if you have nothing at all, adding to the illusion of being casual.
Conclusion
Body armor is there to increase your level of defense. And ballistic armor, as the names suggest, if for defense against ballistic projectiles. But, you always need to be more specific when you are dealing with your own life and health. Depending on your job, mission, as well as personal preference different products may become ideal, or completely useless to you.
In some cases, your body armor will be used for cover operations and you will want to hide it, in others, you will want hard plates and auxiliary pieces to insure the survivability of yourself and your battle brothers and sisters.
Regardless of what you take, you should always remember that caution is necessary for survival. Your armor should be your last resort for not getting hurt, the first should always be good tactics and strategy.